Preparing for the Perfect Day: Six Must-Do's the Week Before Your Wedding
By Lee Ramsay, Lee Ramsay Events | Feature photo by JC Lemon Photography
Your wedding day marks a momentous occasion in your life, and the week leading up to it can feel both thrilling and overwhelming. Whether your wedding is an intimate gathering along the BeltLine or a downtown blowout bash, creating a plan for the week leading before your wedding can help ensure everything goes smoothly on the big day.
As a wedding planner, I recommend these six steps to make the most of this final week of preparation–and to ensure you have a truly unforgettable (and relaxed!) wedding.
1. Review and Rehearse
You've likely spent months planning your wedding–and now everything is coming to life! In this week before, meet with your planner or coordinator one last time to walk through the weekend plans minute-by-minute, to ensure you're feeling comfortable and confident walking into your wedding weekend. This process will surface any last-minute details, which you can delegate to friends and family (see my second recommendation below!). Your planner will also lead you and your families through a full wedding rehearsal–a critical step for a seamless wedding. You only get one shot on the big day, so you want to build comfort and confidence in not only yourselves, but also your friends and family.
2. Delegate!
All of your friends and family will be in town to celebrate you, and many will ask to spend time with you. Keep in mind that despite everyone's best efforts, last-minute tasks always pop up when planning a wedding. For instance, a guest cancellation could mean you need to quickly rearrange the seating chart. While you might feel tempted to take it all on yourself, I highly recommend you protect your time, energy and emotional capacity by delegating wedding tasks. Rely on your support system, such as your bridal party, family members or your wedding planner. Delegate responsibilities such as confirming missing guest RSVPs, procuring last minute decor and handling other event-related details.
3. Take Good Care
With all the wedding planning and excitement, it's easy to overlook self-care. But, it's essential for feeling fantastic on your wedding day. To look your best and de-stress, ensure you've scheduled beauty appointments such as a final hair and makeup trial, a manicure, facial and massage—though not all in the same day! (Pro tip: this is not the week to try cupping or new-to-you skin products.) Adequate sleep, plenty of hydration and a healthy diet will keep you glowing and energized to embrace the joy of your celebration.
4. Manage Vendor Details
Most vendors require payment in full the week before the wedding. It's best to be prepared for this, so it's not an unpleasant surprise the week of the wedding. While processing your final payments to vendors, it's a great time to check in with them one last time to ensure everyone is on the same page. If you are working with a wedding planner, they can facilitate and lead these conversations for you.
5. Be with your People
Your guests have likely traveled from far and wide to be with you on your wedding weekend. Perhaps you have planned a rehearsal dinner and welcome party; this is a fantastic time to greet and check in with all of your guests, so that you aren't rushed to do so on your wedding day. Consider also scheduling out other intimate events throughout the week to spend more time with your closest friends–for example, invite your bridesmaids to your final fitting or a spa day, so you can spend some quality time with the people most important to you.
6. Pack it Up
Amidst all the wedding excitement, many couples skip over planning for the day after the wedding. It's essential to pack thoughtfully for this day, especially if you're leaving for your honeymoon directly. Pack a separate bag with essential items like comfortable clothing, toiletries and any necessary documents or tickets for your honeymoon. This ensures that you can transition smoothly from your wedding celebrations to the honeymoon without any stress or inconvenience.
Embrace the Moment: Plan Ahead
The week before your wedding is a whirlwind of emotions and activity, but with careful preparation–including these six steps–it can also be a rewarding and memorable time. By prioritizing yourself and your wedding plan, you'll be well-prepared to embrace the magic of your wedding day, surrounded by love, joy and lifelong memories.
---
About the Author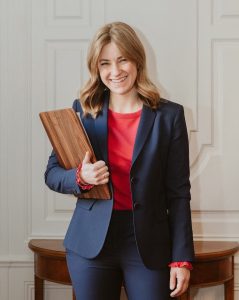 Lee is the owner of 
Lee Ramsay Events
, a full-service event-planning firm that brings clients' visions to life, from event consulting services to end-to-end planning and management. Lee plans events with a blend of warmth, composure, and—thanks to more than a decade as a management consultant—strategic execution of every design-savvy detail.